Posted by | Under
Reviews
Sunday Dec 7, 2008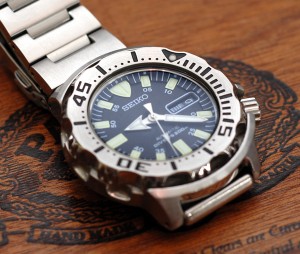 Yeah, I know you already found forty reviews of this watch, and that you are probably convinced to buy it already, but I'm going to add my two cents. The Seiko Black Monster SK799 is one fantastic piece of watch, and given the current state of the economy it's a much better buy than say a Breitling Super Ocean. For those of you out there who still think of Seikos as drug store watches I need to inform you that they are one of the best watch manufactures in the world. Their high end watches like the Grand Seiko line stand up in comparison to Omega, Breitling, Hamilton, Ball and any other quality watch company you can think of. The Seiko Spirit is probably on of the best values in a watch available today. It has an understated elegance matched by few watches.
Weighing in at 175g it's a hefty watch. Not for the faint of heart or the skinny of wrist. The case is 43mm in diameter and 12mm thick. There is an another Seiko watch nicknamed the "tuna can", but this would be a pretty good contender for that moniker. The bezel has a nice fluted design which is vaguely reminiscent of manga drawings. I'm not sure if the name refers to the size of the watch or the design. Japanese culture has that obsession with monsters–Mothra, Godzilla etc. and I think it must be related to this. The fluting makes the bezel easy to grip and it ratchets smoothly. I roast my own coffee and I use the bezel to time the coffee roasting process. Love it!
The lume is super bright. Seiko calls it Lumebrite which is their trademark name for Super-Luminova. The first night I had it sitting next to the bed and my wife, startled by the brightness, looked over after a shut the light and said "what the heck is that". The bracelet is a solid link affair with a clasp that requires you to squeeze two buttons on the side to open it. It is a real stainless steel watch bracelet, not some tin toy, and it feels hefty on your wrist. The buttons work great and have stood up to repeated use without any obvious signs of wear. The crystal is Seiko's proprietary Hardlex which is better than glass, but not as good as sapphire. The crystal is slightly domed which apparently makes it less reflective in a diving situation. I've been knocking the watch around pretty hard for about a year and it still looks pretty clear.
The face of the watch has a nice raised edge which gives it a sculptural feel. The markers are large which contributes to the super bright lume that I mentioned earlier. Mine is black like the one pictured above, but it is also available in a sweet orange face which could provide added visibility for real divers. They also put out limited editions in yellow, blue, and red.
I'm not a diver, but the 660 ft water resistance has been great when I give my dog a bath or wash the car. The crown screws down smoothly and operates well. The crown is at a unique position off the four oclock marker. It's a nice feature as is makes wearing a watch this large more comfortable. The watch is not hacking, but for the price that would be expecting a lot. A hacking mechanism allows a watch to stop the second hand when the crown is pulled out in order to be able to sync the watch with a reference like an atomic clock. It's an over rated feature in automatic watches because most gain or loose a few seconds a day anyway, but most more expensive automatics have it. The lack of it has in no way detracted from my ownership experience with the monster. I should also note that this watch cannot be hand wound so you need to either shake it up when you first start it or just wear it for a while then adjust the time. Once again this is really a non-issue as far as I'm concerned.

Here is a picture of the movement. The Seiko S726 which is an entry level movement for the company, but a quality piece of machine nonetheless. A great thing about Seiko is they manufacture their own movements, something that many so-called premium watch companies don't do. This one is a beauty. It keeps much better time than my Breitling chronograph which is based on the 17 jewel valjoux movement. I'll discuss that watch in detail in a latter post. The most important thing about this movement– it keeps great time. My version loses 3 seconds per 24 hour period. It does not get better than that in the automatic watch world.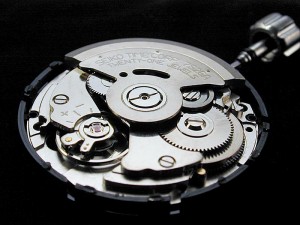 If you have not figured out the conclusion yet it is "For $150 you can't go wrong with the Seiko Monster"
Here is the tale of the tape:
Movement Seiko 21-Jewel Automatic
Crystal Hardlex Crystal
Mineral Glass. Domed Profile
Water Resistant This watch meets ISO standards and is suitable for scuba diving and tested up to 200m.
Case Stainless Steel
Dial Color Black
Bracelet Material Stainless Steel
Case Diameter 43mm (without crown) / 47mm
Case Thickness 12mm
Bezel Material Stainless Steel
Bezel Function One-way Rotating Bezel
Crown Screwed Down Crown
Backlight Lumibrite hands
Calendar English/Spanish day/date window